HIPERTOUCH® 7.62x39 Spring Combo
$6.00
Available on backorder
100% MONEY BACK GUARANTEE
HIGHLIGHT
Heavy, Hammer-Fall, HIPERTOUCH® Springs
HIPERTOUCH® Trigger Series Upgrade Parts

Heavy, Proprietary, .049" Hammer Spring
Hammer Spring Will Not Work w/ Other's Hammers
Heavy, Green Toggle Springs

Eats 7.62x39 RU, Hard-Primer Ammo
Pull Weight: ~3½ lbs.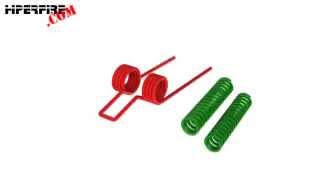 Convert any of the HIPERTOUCH 24 series AR FCGs to run the hard russian primer ammunition in AR rifles.
HIPERTOUCH® Competition: "Competition runs incredibly well in my 9mm AR15! As those of us who have pieced together an AR chambered in 9mm know… they can be very temperamental. It often has to do with marrying the magazine well adapter, blow back bolt and fire control group. I had almost given up trying to get the rifle to be 100% reliable.  The main problem was getting a hammer to properly strike the 9mm Bolt (the carrier and actual bolt are one piece). After almost giving up on the project… I switched over to one of my lowers that had my Hiperfire Competition in it. I could tell immediately during dry fire testing this was the best trigger system I had tried (believe me, it was many). Took it to the range today.  Every trigger press broke like glass. The failures to reset were gone. My split time between rounds were incredible. I ran a few hundred rounds and did not have one failure!"
Read More
-Josh S.
HIPERTOUCH® Competition: "Just installed a Hipertouch 24C in my 9MM JR Carbine fungun, and now it's fun, because it hits where I aim it!"
Read More
-Andrew Poland